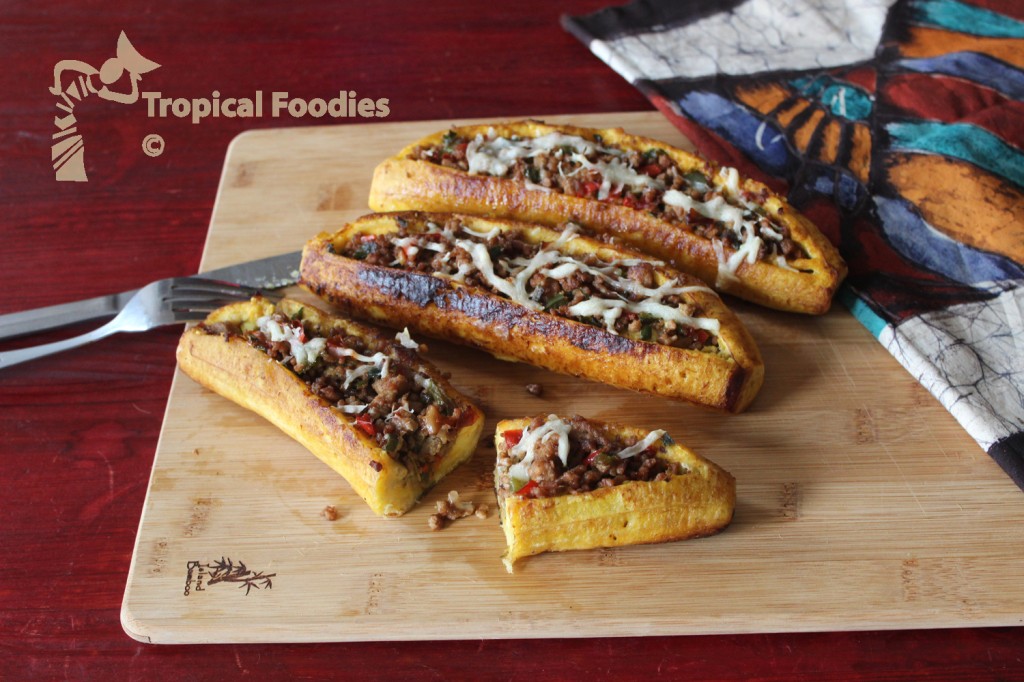 Name:
Stuffed plantain boats
Eaten in:
Jamaica
Foodie:
Linda
I would make these stuffed plantain boats over and over again, just to look at them. The combination of colors and shape create a pure delight for the eyes. But then comes the time, where the eating must happen, and there again, you realize that the dish tastes even better than it looks.  That's a pretty amazing feat. It is spicy, but not overwhelmingly so, as the impact of the chili peppers is attenuated by the softness of the plantain flesh. It is  filling, without being too heavy and is also very versatile as it can easily be turned into a vegetarian or vegan dish.  All in all, a festive dish, perfect for entertaining.
Stuffed plantain boats

Print recipe
| | |
| --- | --- |
| Serves | 6 |
| Prep time | 15 minutes |
| Cook time | 30 minutes |
| Total time | 45 minutes |
| Meal type | Main Dish |
Ingredients
2lb plantains, about 6 ripe and firm plantains ((1 kg))
1/2 cup oil ((125ml))
1/2 cup finely grated cheddar (or other) cheese, grated
Filling
2 tablespoons olive oil
1 tablespoon butter
1 scotch bonnet or jalapeno chili, deseeded and minced
2 cloves garlic, minced
1/2 red bell pepper, deseeded and minced
1/2 green bell pepper, deseeded and minced
8oz ground pork (250g)
3 spring onions, green and white parts, thinly sliced
salt and freshly ground pepper
Directions
Filling
1.
To make the filling, heat the oil and butter in a large skillet over medium heat. Add the scotch bonnet chili and garlic. Sauté for 30 seconds. Add the bell peppers and sauté for 4 minutes until soft. Add the pork and sauté until the pork is cooked, about 5 minutes. Add the spring onions and season with salt and pepper. Set aside
2.
Peel the plantains. Heat the oil in a large skillet over medium-high heat until hot but not smoking. Fry the plantains until golden brown, about 2 minutes per side. Remove and drain on paper towels.
3.
Preheat the over to 350F. Make a slit in each plantain from top to bottom. Fill each plantain with 3-4 tablespoons of the filling and sprinkle with a bit of the cheese. Place on a foil-lined baking sheet and bake for 15-20 minutes until the plantain is cooked through.
Note
Adapted from Authentic recipes from Jamaica by John DeMers
You might also like: