Name:
Pineapple upside-down cake
Eaten in:
Caribbean, Worldwide
Foodie:
Linda
In the pineapple season in Côte d'Ivoire, market women pile hundreds of fresh, ripe fruits on the side of well-traveled roads and wait for customers to stop and buy them on their way back to the city from the beach or the village.  Some families end up driving home with their cars loaded with delicious, honey-sweet pineapples. Ripened by sunshine, the pineapples are so sweet that one can eat them like lollipops…the healthiest lollipops ever! Unfortunately, it's almost impossible to find such tasty pineapples outside the zones where they grow (premature harvest, transportation, refrigeration all affect the taste), but this pineapple upside down cake can serve as a delightful consolation.. If you are not convinced yet, I got the recipe from my Mum, nothing beats recipes passed on from generation to generation!
Pineapple upside-down cake

Print recipe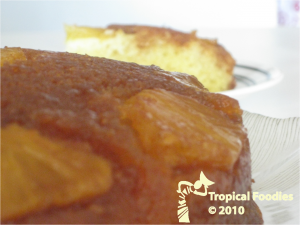 | | |
| --- | --- |
| Serves | 6-8 |
| Prep time | 20 minutes |
| Cook time | 45 minutes |
| Total time | 1 hours, 5 minutes |
Ingredients
1 and 3/4 sticks butter (softened) (200g)
4 eggs
1 and 2/3 cup flour (200g)
1 cup of sugar (200g)
2 teaspoons baking powder
1/8 teaspoon of salt
5 slices pineapple
1/4 teaspoon vanilla extract
1 tablespoon rum
1/2 cup sugar
1/4 teaspoon of vinegar
1/4 cup water
Directions
| | |
| --- | --- |
| 1. | Preheat oven to 325 °F |
| 2. | Put the pineapple slices in a shallow bowl and add the rum. Set aside. |
| 3. | Make the caramel by pouring water, sugar and vinegar (to avoid crystallization) in a small skillet and cook on low/medium without stirring. |
| 4. | When the caramel turns a soft gold color, pour it into a round cake pan (9 x 1 1/2) and spread uniformly while still hot. |
| 5. | Place the pineapple slices on the caramel, one at the center and 4 around, or in any other shape you fancy |
| 6. | Mix the butter, sugar and vanilla until creamy |
| 7. | Add the eggs, salt, flour and baking powder. Mix well. |
| 8. | Pour the batter in the cake pan, on top of the pineapple slices |
| 9. | Bake for 30-40 minutes. Check that the cake is ready by inserting a knife, if it comes back dry, bring it out of the oven and remove from the cake pan immediately by flipping over on a large plate. |
You might also like: