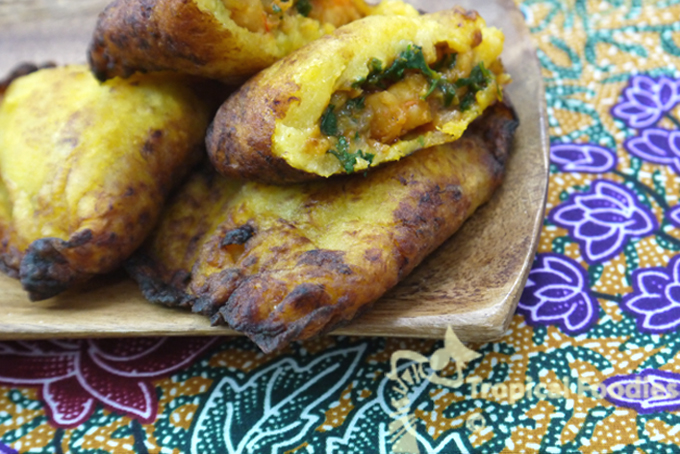 If you are reading this post, thank you for your continuous support! We are delighted to have been sharing tropical recipes from around the world with you for the past 5 years and counting.
The transition to plantain empanadas from this heartfelt announcement is not an easy one, but it must be done. Latin Americans are empanadas' royalty: pick any ingredient, and they make an empanada out of it (http://www.seriouseats.com/2014/10/types-of-empanadas-saltenas-corn-flour-plantain-viento-latin-american-food.html).  I had tried green (unripe) plantains empanadas before, and it turns out they were just a teaser for the ripe ones' version. This yellow plantains empanada dish is so simple yet so flavorful, that after polishing my plate , I immediately started thinking about when I would get chance to make it again. Yes, that serious. The combination of the crunchy plantain batter and the warm filling made for a tasty journey I couldn't wait to get back on.  Care to join me? Let me know what you thought of the recipe in the comments below.
Note: The plantains needed for this recipe need to be carefully selected. They need to be ripe but firm, otherwise you will get a mushy dough that will be near impossible to handle.
Ripe plantains empanadas with shrimp filling

Print recipe
Ingredients
1 "just" ripe plantain (yellow and firm)
1/2 cup frozen shrimps
3 tablespoons tomato sauce (basic marinara pasta sauce works fine)
1 tablespoon chopped cilantro
1/4 cup flour (to form the plantain dough and prevent it from sticking)
1 tablespoon oil
salt, pepper, chili to taste
Directions
| | |
| --- | --- |
| 1. | Make the plantain dough. Fill a large saucepan with water, add 1 teaspoon of salt. Cut the ends off the plantain, peel it and cut it in half. Add to the pot and boil for 15 minutes, until fully cooked. Using tongs, remove from the pot and let cool. Puree using a potato masher, add 1/8 cup of flour and mix. |
| 2. | Make the filling. Heat up the oil in a frying pan. Sauté the frozen shrimps for a few minutes, then add the tomato sauce, cilantro and a little bit of water. Season with salt and pepper to taste (added a little bit of chili as well). Cook for 10-15 minutes until the consistency of the filling is paste-like and no longer liquid, and the tomato sauce and shrimps are cooked. |
| 3. | Form the empanadas. Form 3 balls with the plantain dough. Drop one ball onto a heavily floured rectangle of plastic wrap. Using a rolling pin, roll the dough into a semi-rectangular shape. (Watch here starting at 40 sec: http://www.cookitgirl.com/uncategorized/sweet-plantain-ground-beef-empanada-recipe/). Add more flour to the surface as needed. Place 1 tablespoon of the cooled shrimp mixture in the center of each piece of dough. Use the plastic wrap to fold it in half around the filling and press the edges together with your fingertips to seal the empanada. Lay the finished empanada on a lightly floured, plastic wrapped baking sheet. Continue until you've made all the empanadas. |
| 4. | Fry the empanadas. Heat the oil in a large (10-inch) deep, heavy skillet until hot - about 350 degrees on a deep-fry thermometer. Fry the empanadas at a time, turning occasionally, until nicely golden, about 3 minutes total. Drain on paper towels. Serve at once on a warm serving platter. |
Note
Adapted from: http://www.rickbayless.com/recipe/ripe-plantain-turnovers-with-black-bean-filling/
Thank you:  "Cook it Girl"
You might also like: