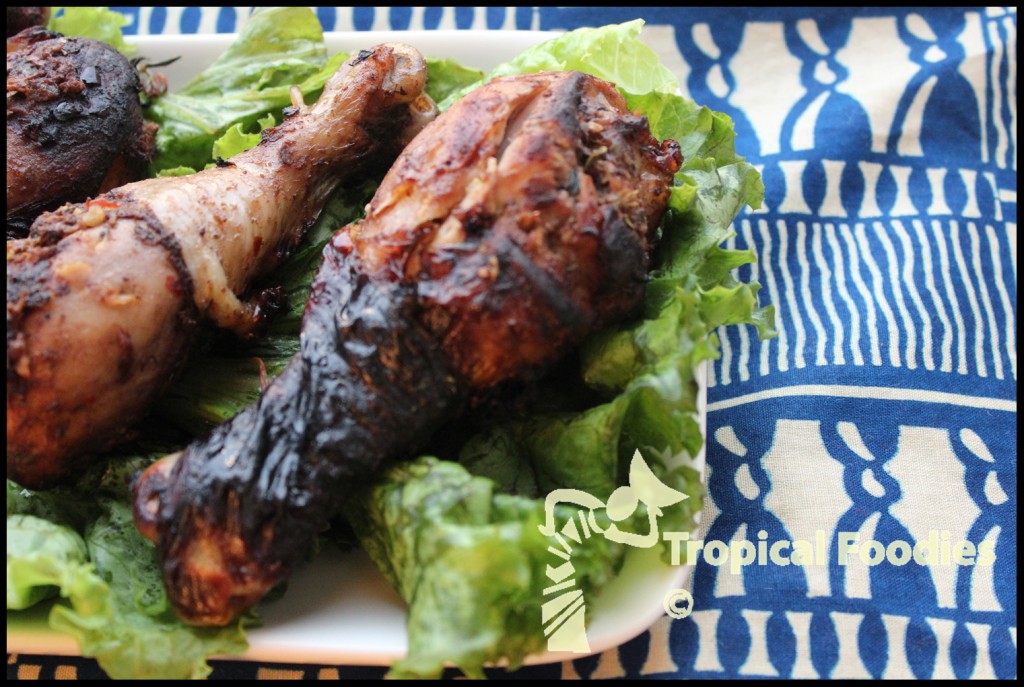 Name:
Jerk Chicken
Eaten in :
Jamaica
Foodie:
Linda
Apparently, the jerk technique and mix of spices were brought to Jamaica by runaway West-African slaves called Maroons.  I find this fascinating because even though I grew up in West Africa, the first time I had jerk was at a Jamaican restaurant in the United States. True, jerk chicken is similar to some grilled meat dish typical
to the coastal regions of West Africa
, but the actual mix of allspice, chili, garlic etc, is not something I have encountered there. This is indeed what Tropical Foodies is about, rediscovering different cultures and how they influenced each other. Now, back to the dish.  I found many recipes and all with different ingredients, which made me realize that you probably have as many jerk recipes as you have cooks. I have tried many jerks and I know that I do not favor the ones with a sweet overtones, so I stayed away from recipes that called for sugar. After that, I just had fun. This chicken is great with rice and peas or fried plantains.
Jerk Chicken

Print recipe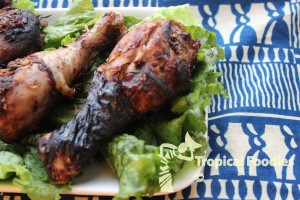 | | |
| --- | --- |
| Serves | 4 |
| Prep time | 30 minutes |
| Cook time | 45 minutes |
| Total time | 1 hours, 15 minutes |
| Meal type | Main Dish |
Ingredients
1 fresh chicken (quartered (or 4 legs (drum+thigh))
Spice paste
1 tablespoon ground allspice ((1/3 cup – 20 g allspice berries))
7 spring onions (sliced)
3 scotch bonnet or jalapeno chillies
3 cloves garlic
4 springs fresh thyme (leaves only)
5 fresh or 2 dried bay leaves
salt and freshly ground black pepper
⅓ cup dark rum
⅓ cup vinegar
Jerk sauce
3 tablespoons freshly grated ginger
3 cups cups (750 ml) water
3 tablespoons cornstarch dissolved in 3 tablespoons of water
Directions
1.
Place the ground allspice (If using allspice berries, dry-roast them in a small skillet over medium heat to activate the flavors, then grind them in a mortar or blender until powdery. ), spring onions, chilies, garlic, thyme, bay leaves, salt and pepper in a food processor and grind to a paste.
tthe-day/#ixzz2Liik0DAg

2.
Place the chicken pieces in a bowl and cover with the paste. Seal and marinate in the refrigerator overnight


3.
When ready to cook, grill or broil the chicken as you would for any other recipe



4.
To make the jerk sauce, place the remaining spice paste used to marinate the meat, place it in a small saucepan and the grated ginger and water. Mix well and bring to a boil over high heat. Reduce the heat to low, add the cornstarch mixture and stir until thickened. Serve on the side if desired.



You might also like: