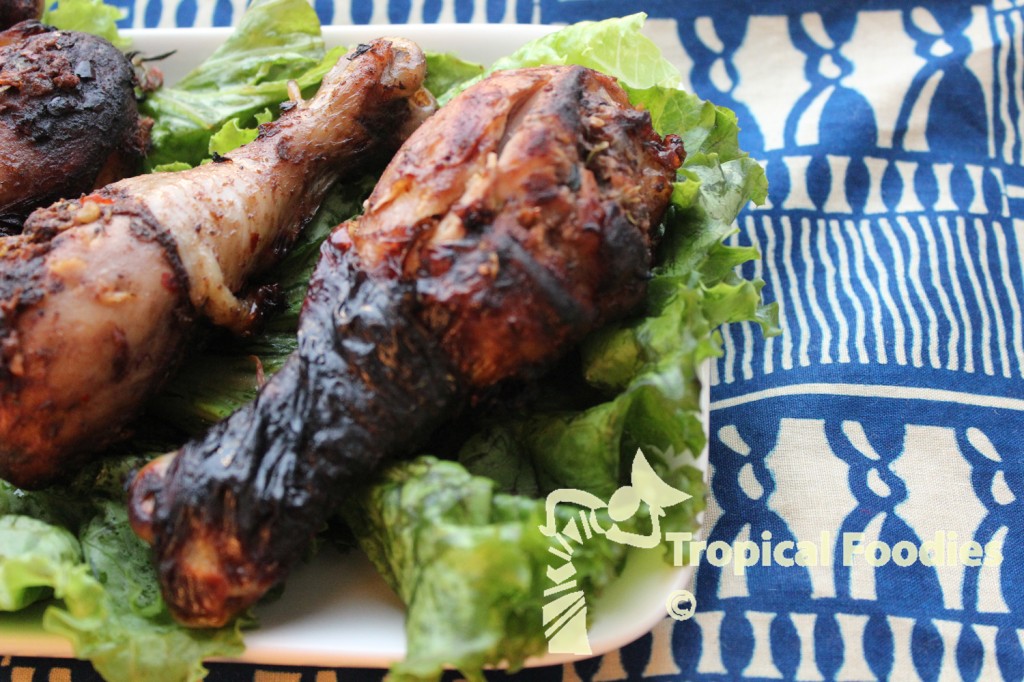 Name:
Jerk Chicken
Eaten in :
Jamaica
Foodie:
Linda
Apparently, the jerk technique and mix of spices were brought to Jamaica by runaway West-African slaves called Maroons.  I find this fascinating because even though I grew up in West Africa, the first time I had jerk was at a Jamaican restaurant in the United States. True, jerk chicken is similar to some grilled meat dish typical
to the coastal regions of West Africa
, but the actual mix of allspice, chili, garlic etc, is not something I have encountered there. This is indeed what Tropical Foodies is about, rediscovering different cultures and how they influenced each other. Now, back to the dish.  I found many recipes and all with different ingredients, which made me realize that you probably have as many jerk recipes as you have cooks. I have tried many jerks and I know that I do not favor the ones with a sweet overtones, so I stayed away from recipes that called for sugar. After that, I just had fun. This chicken is great with rice and peas or fried plantains.
Jerk Chicken

Print recipe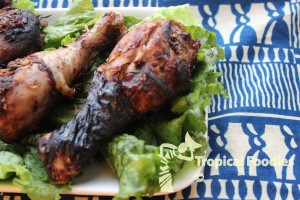 | | |
| --- | --- |
| Serves | 4 |
| Prep time | 30 minutes |
| Cook time | 45 minutes |
| Total time | 1 hours, 15 minutes |
| Meal type | Main Dish |
Ingredients
1 fresh chicken (quartered (or 4 legs (drum+thigh))
Spice paste
1 tablespoon ground allspice ((1/3 cup – 20 g allspice berries))
7 spring onions (sliced)
3 scotch bonnet or jalapeno chillies
3 cloves garlic
4 springs fresh thyme (leaves only)
5 fresh or 2 dried bay leaves
salt and freshly ground black pepper
⅓ cup dark rum
⅓ cup vinegar
Jerk sauce
3 tablespoons freshly grated ginger
3 cups cups (750 ml) water
3 tablespoons cornstarch dissolved in 3 tablespoons of water
Directions
| | |
| --- | --- |
| 1. | Place the ground allspice (If using allspice berries, dry-roast them in a small skillet over medium heat to activate the flavors, then grind them in a mortar or blender until powdery. ), spring onions, chilies, garlic, thyme, bay leaves, salt and pepper in a food processor and grind to a paste. |
| 2. | Place the chicken pieces in a bowl and cover with the paste. Seal and marinate in the refrigerator overnight |
| 3. | When ready to cook, grill or broil the chicken as you would for any other recipe |
| 4. | To make the jerk sauce, place the remaining spice paste used to marinate the meat, place it in a small saucepan and the grated ginger and water. Mix well and bring to a boil over high heat. Reduce the heat to low, add the cornstarch mixture and stir until thickened. Serve on the side if desired. |
You might also like: