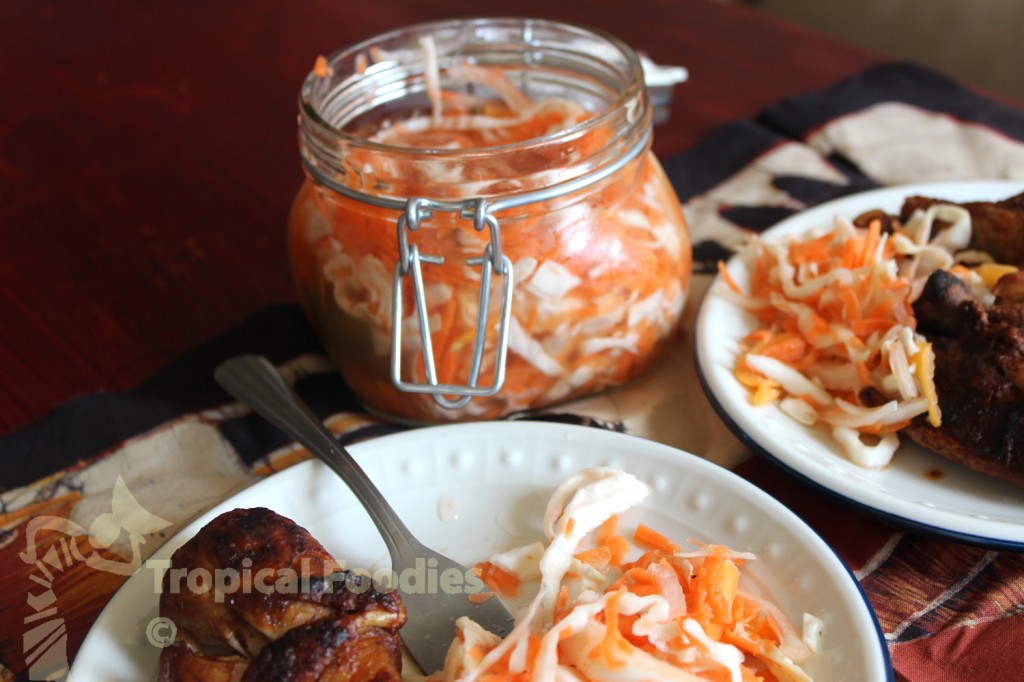 Name:
Pikliz (Haitian spicy slaw)
Eaten in:
Haiti
Foodie:
Linda
That's a fiery one! The kind of spice that widen your eyes and clear your nasal and throat passages. I had early cold symptoms when my pikliz was ready to taste: as soon as I tried a spoonful, I felt like all the bugs were shocked and evacuated from my system. Yes, that good.  Pikliz is yummy served with some Haitian chicken in sauce, but it would add a touch of freshness and spice to any meal.
Haitian Pikliz

Print recipe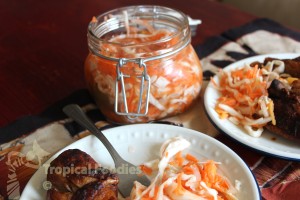 | | |
| --- | --- |
| Serves | Multipe |
| Prep time | 20 minutes |
| Meal type | Condiment |
Ingredients
3 cups vinegar/white wine vinegar
4-6 cloves
1/2 lime (juiced)
4 large habaneros pepper (3 thinly sliced, one cut in half)
1/4 cup onion
1 small shallot
1.5 carrots (sliced or shredded)
1 cup red cabbage
1.5 cups green cabbage (sliced or shredded)
Optional
1 teaspoon adobe seasoning
storage
1 glass jar (32oz)
1 pair of tongs (to mix)
Directions
1.
In a medium sized bowl add in cabbage, onion, shallot, adobe seasoning (if using), habanero peppers, lime, lime juice,salt, pepper, and vinegar. Mix with tongs, then add ingredients into jar and pour in vinegar mixture. Refrigerate and let sit for 24 hours before eating.
2.
Tip: Use fewer (1 or 2) habaneros for a moderately spicy slaw :)
Tip2: Store your pikliz in the fridge, it tastes even better after one week.
Note
Adapted from: http://myhaitiankitchen.blogspot.com/2010/09/pikliz.html
You might also like: