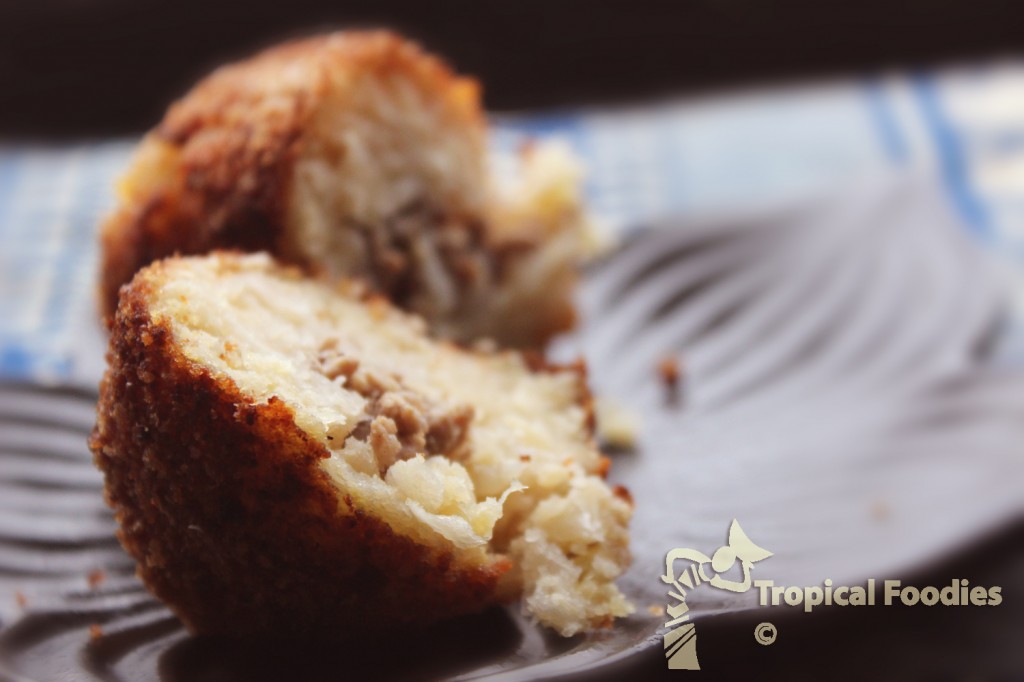 Name:
Muchines de Yuca – Ecuadorian yuca fritters
Eaten in:
Ecuador
Foodie:
Linda
As far as I can tell, cassava is used in a lot more creative ways in Latin America than I have encountered in West Africa. These stuffed cassava fritters are just one proof of that. They wonderfully combine the crunchy texture of breaded cassava with a well-seasoned filling that manages to both pop and melt with every bite.  (I slightly boiled the yuca before grating it).  The fritters are great appetizers, or snacks. They could even be served as a meal accompanied with a green salad.
Muchines de Yuca – Ecuadorian yuca fritters

Print recipe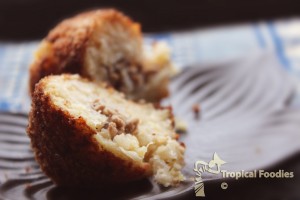 Ingredients
2-3lb yucca (frozen or fresh)
2 white onions
1 teaspoon salt
2 packets goya seasoning with annato (achiote)
2 egg yolks
1lb ground pork (For the filling)
3 cloves garlic
1 teaspoon cumin
1/4 cup beef stock
salt and pepper (to taste)
2-3 hard boiled eggs
Directions
Prepare the filling
1.
Coarsely chop 1 onion, and mince the garlic. Place a couple of tablespoons of vegetable oil in a medium skillet and cook the onion and garlic over medium heat until soft and fragrant.

2.
Add the ground pork, 1 packet of Goya seasoning, and cumin to the pork and cook over medium heat, stirring frequently, until pork is well browned.
3.
Add the beef broth and simmer pork over low heat for several minutes, until most of the excess liquid has evaporated. Season with salt and pepper to taste. Set aside to cool. Stir in some pieces of chopped hard boiled egg if desired.
Prepare the dough
4.
Prepare the yuca "dough": If using fresh yuca, peel the yuca (a vegetable peeler works well) and remove the stringy inner fibers at the center of the root.
5.
Grate the peeled yuca and the onion as finely as possible using a hand grater or a food processor. Place the grated yuca and onion in a strainer or between some paper towels and press firmly to remove any excess liquid.
6.
Whenthe yuca is as dry as possible, stir the egg yolks, salt, and one packet of Goya seasoning into the grated yuca.
Make the muchines
7.
Shape the muchines: Place a generous tablespoon of the yuca mixture in the palm of your hand and flatten it to cover your palm. Add a spoonful of the pork mixture to the center of your palm, then use another tablespoon of the yuca to cover the filling. Carefully shape the muchin into an oval shape, trying to fully seal the pork inside of the yuca dough.
8.
Place the shaped fritters on a couple of paper towels to absorb any excess moisture.

9.
Fill a heavy pot with tall sides with 2 to 3 inches of oil, and carefully heat the oil over medium high heat. When the oil reaches about 360 degrees (a piece of the yuca dough should sizzle when it hits the oil), gently lower the fritters into the oil, working in batches if necessary.
10.
Fry yuca fritters until they are a deep golden brown, then drain them on paper towels to absorb any excess oil while they cool.
Serve muchines warm with salad.
Makes about 15 3-inch fritters.
You might also like: