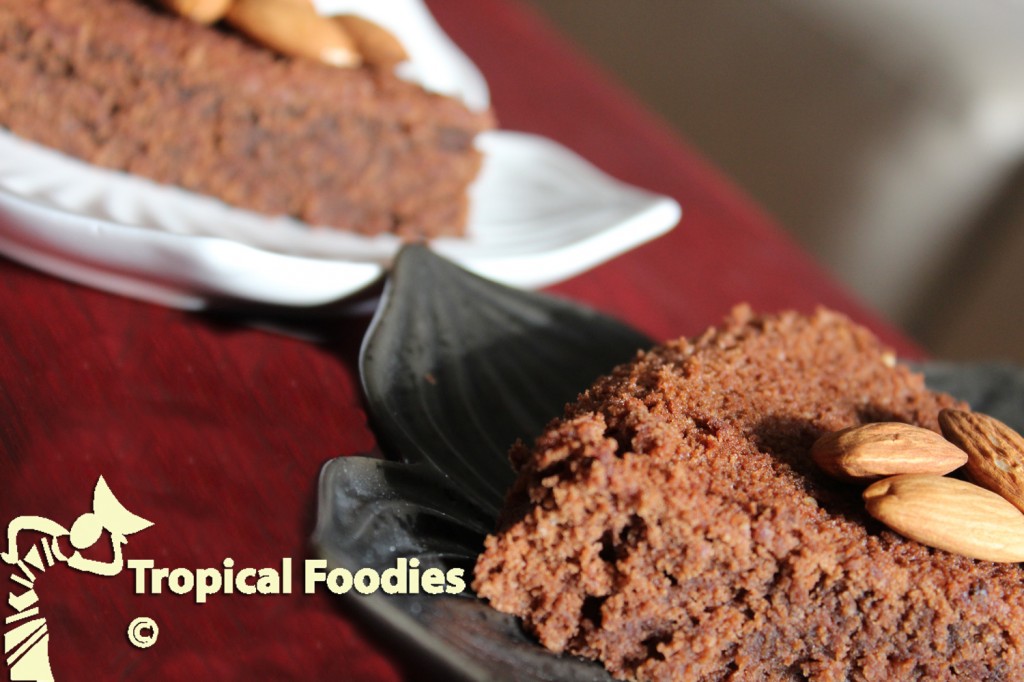 Name:
Reine de Saba – Queen of Sheba
Eaten:
regularly by anyone who's tried it at least once 🙂 Consider yourself warned
Foodie: 
Linda
This recipe is the second one from the JC100, Julia Child's challenge that we take up here at Tropical Foodies since, you guessed right, it contains chocolate. Now, the name of the dish itself is an adventure. The Queen of Sheba was mentioned in the Bible, the Koran and the Ethiopian Kabra Nagast (Sheba was a rich kingdom that prospered through trade with Jerusalem and the Roman Empire, and spanned modern day Ethiopia and Yemen). The Queen is said to have visited Jerusalem with gold to give to King Solomon and some stories tell of a son she had with him.  Why is the cake named that way? Some say it is because of the queen's skin color, which resembled chocolate, others simply that it is a cake fit for a queen. Both explanations, unsatisfactory from a point of view of finding the true origins of the name, do give it an air of romantic mystery that I simply love.  And to top that, the cake truly is divine.
Reine de Saba – Queen of Sheba

Print recipe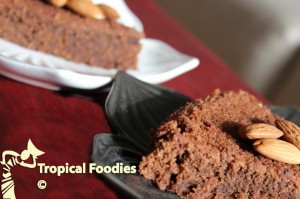 | | |
| --- | --- |
| Serves | 6-8 |
| Prep time | 30 minutes |
| Cook time | 25 minutes |
| Total time | 55 minutes |
| Meal type | Dessert |
Ingredients
4 ounces or squares semi-sweet chocolate melted with 2 tbsp rum or coffee
¼lb or 1 stick softened butter
⅔ cup granulated sugar
3 egg yolks
3 egg whites
pinch of salt
1 tablespoon granulated sugar
⅓ cup pulverized almonds (almond flour)
¼ teaspoon almond extract
½ cup cake flour ((scooped, leveled and sifted))
2oz (squares) semi sweet baking chocolate
2 tablespoons rum or coffee
5-6 tablespoons unsalted butter
Directions
| | |
| --- | --- |
| 1. | For the Cake |
| 2. | Preheat oven to 350°F (175°C). |
| 3. | Butter and flour the cake pan. Set the chocolate and rum or coffee in a small pan, cover, and place (off heat) in a larger pan of almost simmering water; let melt while you proceed with the recipe. Measure out the rest of the ingredients. Cream the butter and sugar together for several minutes until they form a pale yellow, fluffy mixture. |
| 4. | Beat in the egg yolks until well blended |
| 5. | Beat the egg whites and salt in a separate bowl until soft peaks are formed; sprinkle on the sugar and beat until stiff peaks are formed. |
| 6. | With a rubber spatula, blend the melted chocolate into the butter and sugar mixture, then stir in almonds, and almond extract. Immediately stir one fourth of the beaten egg whites to lighten the batter. Delicately fold in a third of the remaining whites and when partially blended, sift on one third of the flour and continue folding. Alternate rapidly with more egg whites and more flour until all egg whites and flour are incorporated. |
| 7. | Turn the batter into the cake pan, pushing the batter up to its rim with a rubber spatula. Bake in middle level of preheated oven for about 25 minutes. Cake is done when it has puffed, and 2-1/2 to 3 inches around the circumference are set so that a needle plunged into that area comes out clean; the center should move slightly if the pan is shaken, and a needle comes out oily. |
| 8. | Allow cake to cool in the pan for 10 minutes. Run knife around the edge of the pan, and reverse cake on the rack. Allow it to cool for an hour or two; it must be thoroughly cold if it is to be iced. |
| 9. | For the Icing: |
| 10. | Place the chocolate and rum or coffee in the small pan, cover, and set in the larger pan of almost simmering water. Remove pans from heat and let chocolate melt for 5 minutes or so, until perfectly smooth. Lift chocolate pan out of the hot water, and beat in the butter a tablespoon at a time. Then beat over the ice and water until chocolate mixture has cooled to spreading consistency. At once spread it over your cake with spatula or knife, and press a design of almonds over the icing. |
| 11. | Yield: For an 8-inch cake serving 6 to 8 people |
Note
Excerpted from Mastering the Art of French Cooking by Julia Child. Copyright © 1961 by Alfred A. Knopf. Reprinted with permission from the publisher Alfred A. Knopf, a division of Random House, Inc.
You might also like: