Name
: Moros y Cristianos
Eaten in: Cuba/Mexico
Foodie:
Linda
It is not often that a dish stirs up so much debate based on its name only… Moros y Cristianos or Moors and Christians is a mix of black beans and white rice. Black beans represent the dark-skinned Moors and the white rice represent the lighter-skinned Christians.
 The dish is said to have  originated during the Moors' invasion of Spain and was later on brought to Cuba.  That dish is also said to bring good luck when eaten on New Year's Day, so go figure.
Moros y Cristianos

Print recipe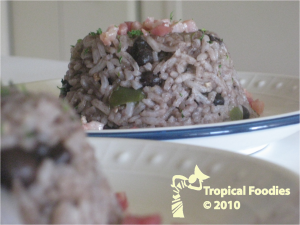 | | |
| --- | --- |
| Serves | 4-6 |
| Prep time | 20 minutes |
| Cook time | 30 minutes |
| Total time | 50 minutes |
| Meal type | Main Dish |
Ingredients
2 – 3 slices thick-sliced bacon, (diced)
1 cup chopped onion
1 cup chopped green bell pepper
2 teaspoons chopped garlic
1-1/2 teaspoon ground cumin
1 teaspoon dried thyme leaves
1 tablespoon olive oil
1 cup rice
1 can (15 ounces) black beans rinsed and drained or 2 cups cooked dry-packaged black beans (Frijoles Negros)
2 cups water
1/2 to 1 teaspoon salt (optional)
1/2 teaspoon black pepper
1/8 teaspoon cinnamon
1-2 tablespoon minced fresh cilantro or parsley
Directions
1.
In a large saucepan over low heat, cook the bacon until crisp. Remove it and set aside.


2.
Sauté onion, bell pepper, garlic, cumin, thyme and crushed red pepper in the bacon drippings until onion is tender, about 5 minutes.


3.
Stir in the cumin, salt, pepper and cinnamon. Cook, stirring for 1 minute


4.
Add the rice and sauté for 1 minute.


5.
Add the reserved bean liquid (if you are using canned beans, add enough water to the liquid to make 2 cups)


6.
Stir and bring to a boil over medium-high heat. Cover, reduce the heat to low and cook until the rice is almost tender.


7.
Gently stir in the beans and oil, cover and continue to simmer over low heat for 10 to 15 minutes, until the rice and beans are tender.


8.
Fluff with a fork. Sprinkle with the bacon and cilantro and serve.
This recipe is adapted from Eating Cuba by Beverly Cox.



You might also like: