Name
: Tropical Sweet Potato Fries
Eaten in
: West Africa
Foodie
: Linda
Folks: Not all sweet potatoes are created equal, the same applies to the fries made from them.
The sweet potatoes found in West Africa have a yellow flesh and are less sweet than their counterparts grown found elsewhere. When turned into fries, they liberate a flavor which is both mild and memorable.  They used to be my favorite snack food when I was growing up: scarcity played a role there, as we never had them as often as other snacks like Alloco for example. 
Since I moved to the US, I have been trying to replicate the texture and flavor of those sweet potato fries with the variety of sweet potatoes found here, not to avail, until…. Yes, you guessed it, until I found the RIGHT sweet potatoes.
Tropical Sweet Potato Fries

Print recipe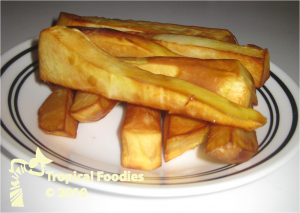 | | |
| --- | --- |
| Serves | 2 |
| Prep time | 15 minutes |
| Cook time | 25 minutes |
| Total time | 40 minutes |
| Meal type | Side Dish |
Ingredients
2 Medium size light brown sweet potatoes (yellow flesh)
salt
Frying oil (vegetable oil)
Directions
| | |
| --- | --- |
| 1. | Peel the sweet potatoes and cut them in small sticks (a little wider than a finger – don't mean to be gruesome here, just looking for a universal length measurement). |
| 2. | Put the raw fries in a bowl of water and add salt to your taste |
| 3. | Heat the oil up. Add one "fry" to test the temperature. If the oil starts sizzling, it is at the right temperature. |
| 4. | Cook the fries for 5 to 10 minutes, until they have a golden color. |
| 5. | If you like extra crispy fries, take them out of the oil, let them rest for 5-10 minutes and fry them again. |
| 6. | Serve as a side or as a mid-afternoon snack |
| 7. | I know I have used the word "fry" more times than "healthfully" acceptable, but it's all about moderation, so as long as you don't fry 10 sweet potatoes and have the whole thing in one sitting, you will be fine |
You might also like: